What Are  Governance, Risk and Compliance (GRC) Services?
One thing that remains constant these days is change. Technology changes. Regulations change. Marketplaces and economies change. Best practices change.
If you want your organization to achieve its strategic objectives, manage uncertainty and meet the needs of stakeholders, you need a systematic way to manage governance, risk and compliance.
Governance, Risk and Compliance (GRC), also called Governance, Risk Management and Compliance is an organizational strategy for aligning IT with business goals while controlling risk and meeting regulatory compliance requirements.
The primary goal of GRC is to use an enterprise-wide strategy for improving governance, reducing risk and achieving compliance.
Reach out to us if you would like to discuss how Digital Creations can help you with your GRC requirements!
GRC: One Unified Strategy for Your Entire Enterprise
In the context of your IT environment, GRC has three components.
Governance
Aligning your IT operations with your organizational goals.
Risk
Having a comprehensive process that mitigates your exposure to IT risk.
Compliance
Ensuring that your IT infrastructure and activities comply with regulations.
GRC Services and How they Help Your Organization
Governance, Risk and Compliance is not just a cybersecurity strategy, and it's not just the name given to the software suite that manages GRC.
GRC is also a service that managed service providers and consulting firms offer to their customers.
These services typically feature a range of offerings, including:
Board advisory services
Governance design services
Design and testing of internal controls
Enterprise risk management assessments
IT risk assessments
Security audits
Compliance audits
Regulatory compliance advisory services
Strategic performance reviews
Governance, Risk and Compliance services are of most value to large organizations that have complex governance structures, have complex IT needs, and are in heavily regulated industries. These organizations are typically found in the following sectors: banking, department of defense contracting, financial services, government contracting, healthcare, and insurance.
Margins
Reduced costs by eliminating duplicate controls, processes and reporting.
Security
Improved security of IT infrastructure, assets and data.
Consistency
Improved organizational alignment with a common set of goals for everyone to achieve.
Management
Streamlined management by aligning the mission, vision and values of the organization.
Risk
Minimized risk by addressing short-term and long-term risk exposure.
Compliance
Greater levels of compliance with laws and regulations governing data privacy, usage and storage.
Benefits of Partnering with an IT Services Firm that Specializes in GRC
If you need outside help to implement or manage your GRC plans and processes, you should consider partneri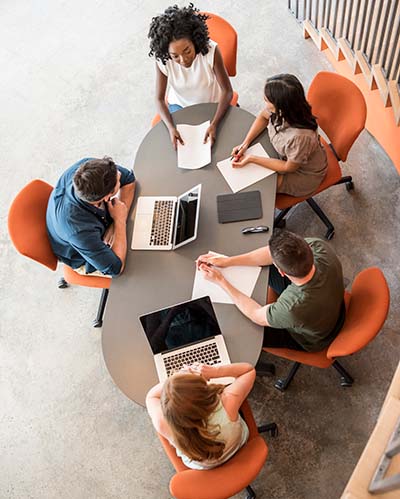 ng with an IT firm with expertise in GRC.
Why?
Because IT is intimately involved in how you 
govern, how you manage risk, and how you comply with regulations.
When it comes to security and compliance, you can't aff
ord to fail. This is why you should partner with an IT services firm that specializes in helping organizations like yours gov
ern well, get secure, stay secure, and meet compliance standards.
The best IT services firms solve your complex IT 
challenges, help with strategic direction, proactively manage your IT infrastructure, an
d protect your people, platforms, networks, and data around the clock with advanced security solutions.
What Digital Creations Offers
Digital Creations is a managed service provider that delivers proactive managed IT services for organizations that must remain secure and stay in compliance with strict regulatory requirements. We offer a range of services to help you meet your GRC goals:
IT Governance
We help you create, audit and manage a strategy for governance.
Our governance services help you put your IT governance strategy and plan together so that you develop a clear framework that fits with your business goals and integrates with the rest of your GRC plans and processes.
IT Risk Management
IT Risk Assessment
We help you define what needs the most protection, and then provide a customized road map with short-term and long-term milestones.
Security Maturity Model Self-Assessment
We help you assess your current security standing, then develop a proactive plan to protect your organization.
IT Compliance
We help you create, audit and manage a strategy for complying with the regulations that govern your industry, such as NIST, DFARS, and CMMC.
NIST Certification Consultation
We help you get NIST certified quickly while identifying your CMMC gaps.
Ready to Get Started with GRC Services?